It used to be that the only people who saw your vacation photos were your family and the occasional boyfriend who was tortured with the aforementioned photos. Those days are long gone. Now we share our vacation photos on places that are very public. Facebook. Twitter. Instagram. Terrible photos of you can be shared instantly through all of these social media with just one click. And don't forget the all important tagging feature that makes it so simple for that unflattering photo to be viewed by hundreds of people you may or may not know. I've had my fair share of these situations as I live four short hours away from the biggest theme park cluster I've ever seen (Orlando, Florida), and since I've learned my lesson, I put together this little guide for the ideal theme park outfit.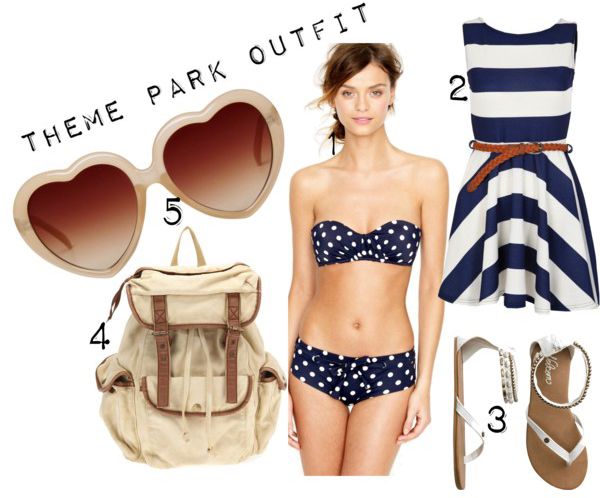 1. Bathing suit- Most theme parks have water rides, at least one. You'll be glad you're wearing one of these when the rest of your friends are walking around in wet, soppy underwear and you're not.
2. Sun dress- believe it or not, this is the best thing you can possibly wear to a theme park. There is not a ride in existence that will lift your dress up. I promise. If it gets wet, you can ring it out and it dries faster. Also, you're probably going to be eating sweet and/or salty food and drinking soda at the park. I don't know about everyone else, but this makes me bloated and I definitely don't want to look like some kind of beached whale in all of my photos. Something that falls away from your tummy is best!
3. Sandals! Water shoes are kind of dorky and sneakers take forever to dry. Wear a comfy pair of sandals with some kind of cushion at the sole and an ankle strap of some kind so they don't fall off while riding roller coasters. You will be so happy you did this.
4. Rucksack- You're going to need to carry around bags of souvenirs, bottles of water, leftover snacks. Instead of having 15 plastic bags, you could fit it all into this neat little rucksack, Just make sure it's not too big and that it's something you're comfortable carrying around for 8-10 hours.
5. Sunglasses- Something whimsical is just my preference. Don't bring your most expensive pair. If you need to, buy a cheap pair at a rest stop or something. Don't bring something you'll cry over if you lose it at the park!
If you follow these tips, you'll be really comfortable and you won't look like a wet dog in any of your pictures. You'll just look like the cutest girl at the park and you can have lots of fun without worrying about those pesky camera-phones.