A Rosie the Riveter-esque outfit
My bathroom is pretty much done, and although I could only buy a few new things for it, It feels completely different and brand new to me. At least now I know if I ever want to change things around again, it'll be much easier now that I have neutral walls. I spent a lot of time fixing what you actually can't see in the photos, or even by walking in (in some cases) I had to patch up and paint the ceiling (not an easy task!) and I patched up the HUGE holes I had in the walls. My towel rack fell right off the wall years ago, and my mom's solution was to just hang up a bigger towel rack to cover them up. I really hated having a wobbly towel rack. Then there's my old shower head...
You would expect a shower to be a relaxing experience. what with the water cascading down your back and everything; but NO. I had a Nazi shower head that shot water torpedoes at all the most sensitive parts of my anatomy! I don't know what took me so long to fix these things, but it all started with a beautiful shower curtain at TJMaxx for $10. I love TJMaxx. I found the shower curtain, new hardware, soap dispenser, and trash bin, aaand the most delicious bath mat I have ever set my feet upon for about $120. All this and $30 for paint, and I was set. As for my shower head, my mom bought a new one, and I inherited her old one. It's perfect. No more shower battles, and I feel like my little bathroom is spectacular now.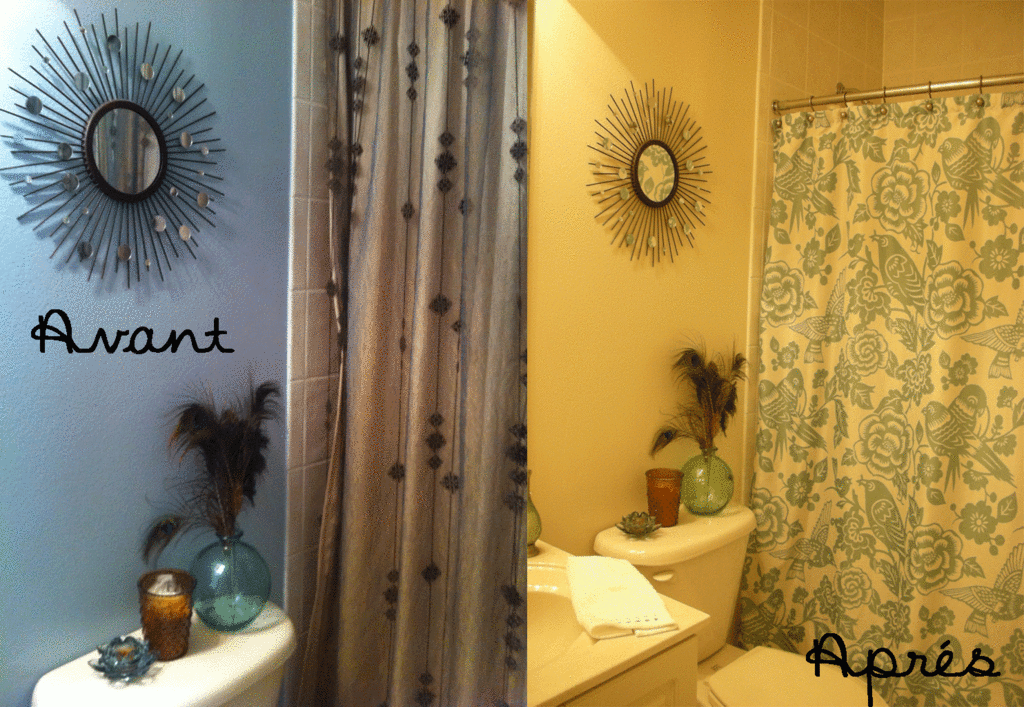 This is honestly my favorite part of the bathroom. Touches of blue, peacock feathers, lotus flower tea light from my best friend, starburst mirror, and my favorite tea scented anthropologie candle. It's a little cluster of my absolute favorite things.
Outfit Details:
Top: Steven Alan PJ Top via Anthropologie (on SUPER sale!)
Shorts: Forever 21 via eBay
Flats: Me Too