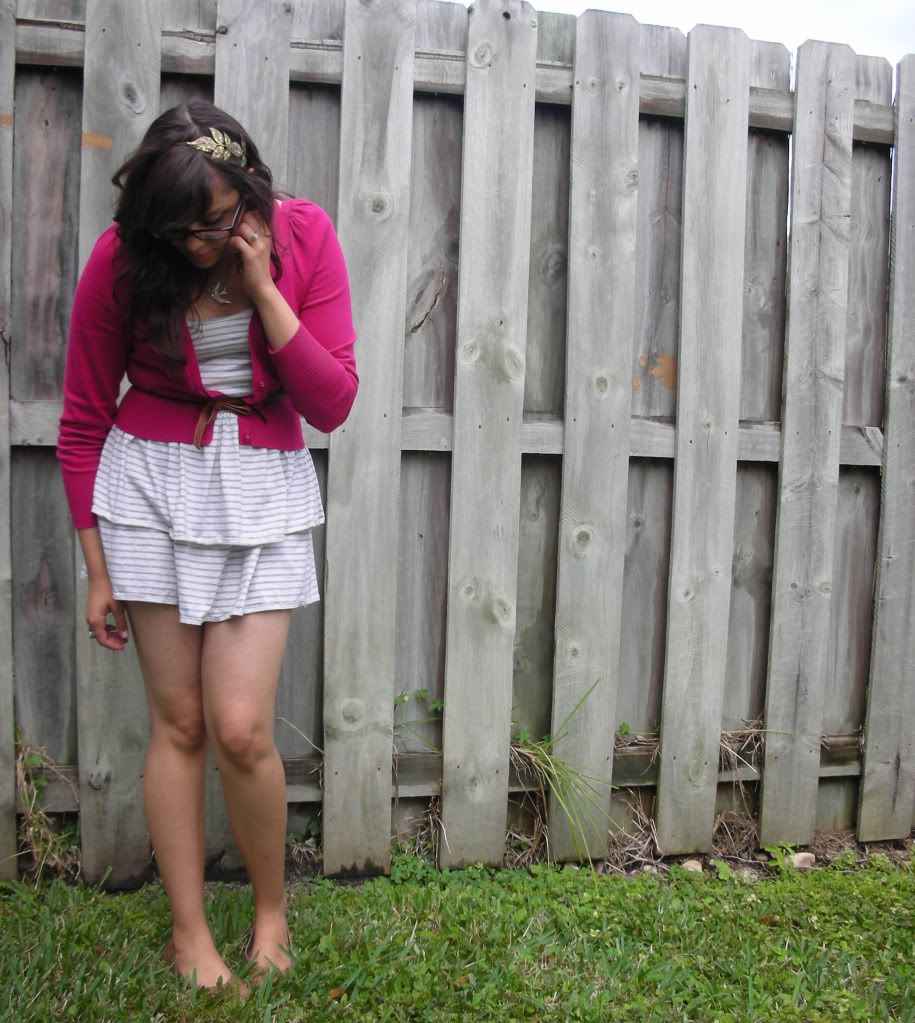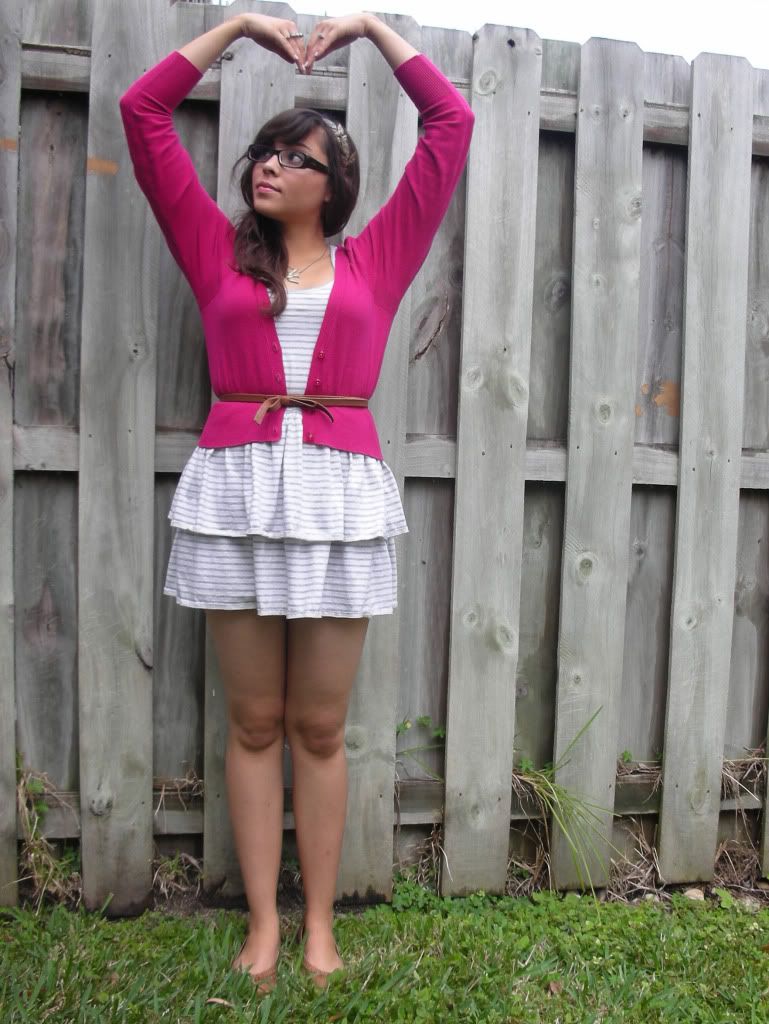 Outfit Details:
Cardigan: Anthropologie
Dress: Armani Exchange
Belt: Anthropologie
Shoes: DSW
Headband: Urban Outfitters
Necklace: Urban Outfitters
Valentine's day is creeping close, hiding in the shadows of next week. I've been hard at work making homemade cards and figuring out a menu for a nice dinner I'm planning for Mark (homemade heart-shaped four cheese ravioli in case you were wondering!) I haven't always been this way. In fact, even though I've been with the love of my life for three happy years, this is the first year we're even celebrating it. I used to hate it. I had a chronic case of the bitter-itis and artificial sweeteners weren't going to cut it. When I was little, my mom never let me play outside with the other kids in the neighborhood. I didn't mind, I was happy to stay in my room playing with dolls, making forts, and reenacting my favorite parts of my favorite movies. I used to make myself costumes made of paper for these little plays. I'd spend hours and hours taping together a dress or a mermaid's tail, wings made of aluminum foil- it didn't matter.
It wasn't until my first day of school that I realized I had no idea how to make friends. I was too shy to talk to the other kids. I didn't know what other children liked to do and I wasn't familiar with any of the games they liked to play. They noticed, of course, although I hoped I could get by without them even seeing me. We all introduced ourselves. We were asked our favorite colors. All the boys said blue. Almost every girl said pink; except for me. My favorite color at the time was yellow. When I was little I wasn't particularly fond of pink. There was an audible collective gasp. I was automatically an outcast. They made fun of me, called me names, told me I was weird. I never tried to make them like me. I just didn't know how.
When Valentine's day rolled around, we all brought our little punch out valentines with pictures of cartoons on them. We got up in groups of three to pass them out. I watched each of my classmates get closer and closer to my desk. I closed my eyes, too nervous to look and see if I'd actually get a valentine. I didn't. I had been skipped. Maybe it was a mistake. I didn't say anything. Nope. The majority of my classmates skipped me. There was a small group that didn't skip me, and that made me feel better, but I still felt so unloved and alone. We were only five! I was too petrified to even speak to these children, why did they hate me so much? The Valentines' Days to follow were no better. They just progressed from being skipped out of a few Hershey's Kisses to being skipped when it came to real kisses. I'll spare you all the heartbreaking details of the failed romances of my high school life haha. Suffice it to say that I've got a starfish heart. You can chop it up, but it'll always grow back good as new.
Anyway, I wanted to make this Valentine's day really special and festive because I've missed out so much over the years. The truth of the matter is, now pink is one of my favorite colors, I love anything heart shaped, and chocolate is a food group in my book. Therefore, there is no logical reason for me to hate this holiday.
Sorry for such a lengthy post today! I suppose this is my long way of saying, expect some more Valentine's day related posts for the next few days!