Hi everyone, I am Allison and I blog over at
ShyScout
! Jacqueline and I decided it would be fun to do a guest swap awhile back and we are finally getting around to it. Together we decided to do a wardrobe challenge – five items, five ways (not including shoes and accessories). I have always found it fascinating how creative people can get with these sort of challenges. It is exciting to see how your every day clothes can be transformed with a little time and effort. I will admit, when Jacqueline brought the initial idea up I was a bit nervous – how can you possibly make five outfits with five random pieces of your wardrobe? After a few trial and errors I kind of got the hang of it. Who knew that by thinking outside of the box you can create endless wardrobe possibilities?
I wanted this to be a real challenge, so I chose pieces I have only worn on a few occasions - if ever, with the exception of my blue jeans. Here we go...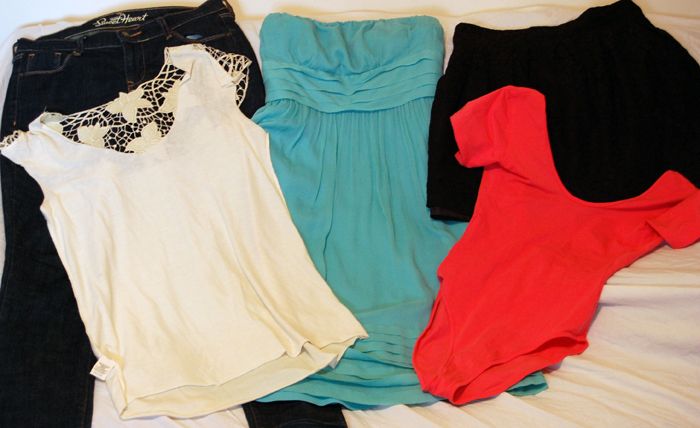 The items: 1. My favorite pair of dark wash denim from Old Navy, 2. A cream blouse with floral detailing from Urban Outfitters, 3. Thrifted turquoise blue BCBG dress, 4. Black lace Forever 21 skirt, 5. Coral leotard from American Apparel.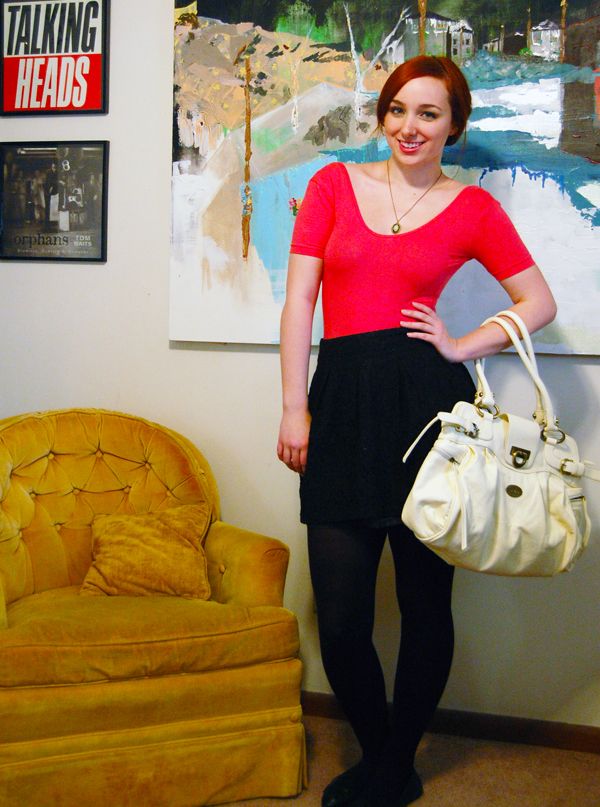 This was my first creation, it seemed the most logical place to start. The pink top and white bag add a fun pop to the otherwise dark outfit. I could see myself wearing this outfit out on a saturday night.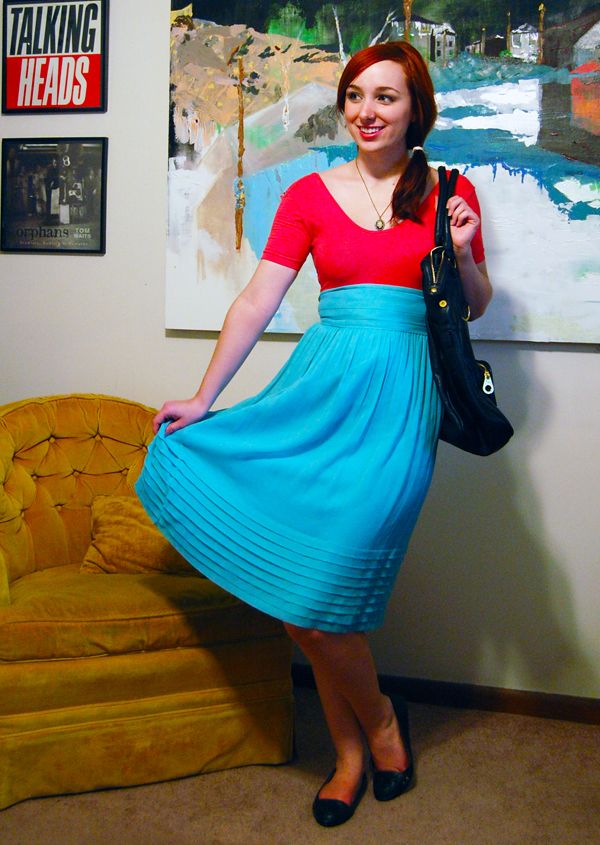 Let's be real ladies, leotards are a pain to get in and out of, so for my second look I kept the top pink. I decided to alter the blue dress and convert it into a long skirt for this look. I think this outfit would be fun to wear on a date, a picnic, or combo :] This look turned out to be my personal favorite.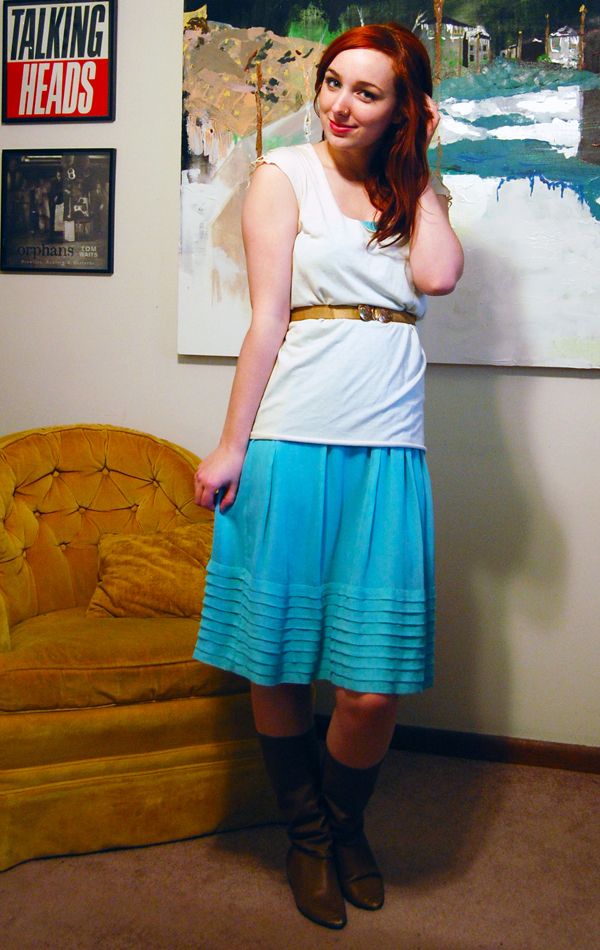 Next I wanted to try the dress out on its own, but in order to keep up with the challenge I added the top. The top was a bit loose so I added a gold belt to cinch it in a bit, it made such a difference in the outfit. I also added brown boots to give it a more laid back vibe. I could see myself wearing this look as an everyday outfit.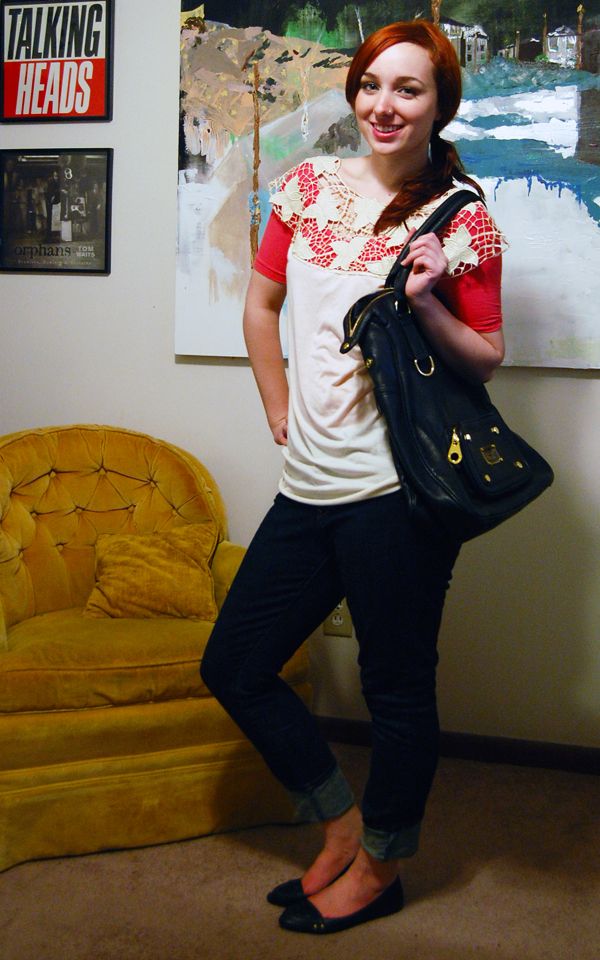 The challenge got tough around this outfit for me. How to wear the tops differently without them being dull or how I would typically wear them? I decided to wear the leotard and layer it with the top. In order to add interest I wore the top backwards so that the detailing could really shine. I like how this one turned out. I could see myself running errands on the weekend in this outfit.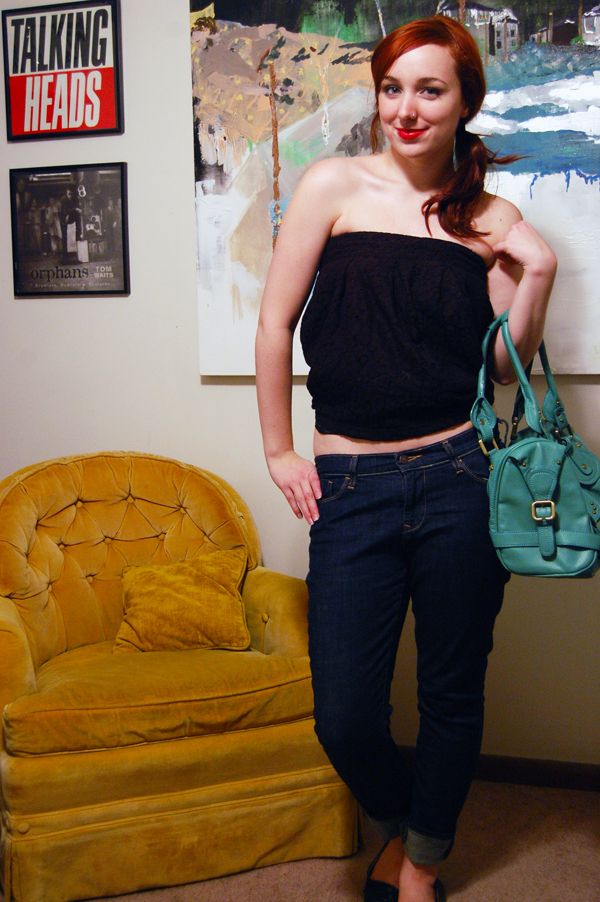 Ooolala, my last outfit! I am not going to lie, I got so caught up in taking the pictures that I initially only styled four outfits - whoops! (The pile of clothes don't count). Realizing my mistake I panicked, how on earth could I make another outfit?! Then it hit me, convert the skirt to a tube top, and viola! I took the back in a bit with some safety pins to give it shape and I really like the outcome. This flirty outfit would be perfect for a friday date night.
Phew, I made it! While this challenge took a bit of time to get the hang of, after a few outfits it came pretty easy. I love that I have five new outfits that I would have never thought to wear before this challenge. I need to try to think outside of the box more often, and I suggest you all do the same.
---------------------------------------------------------------------------------------------
Check out my guest post on ShyScout's blog
HERE